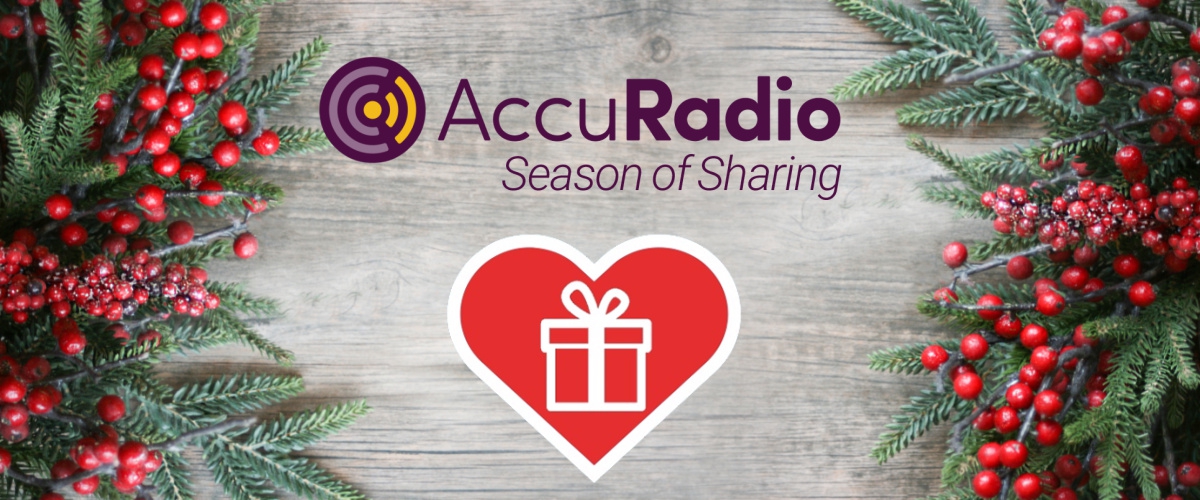 AccuRadio is giving $25,000 to charity in our 8th annual Season of Sharing, and we'd love your help to decide where the money goes!
Listen to vote!
Between November 21 and December 23, launch any AccuRadio channel and, once a day, you'll be asked to vote for one of the three featured charities (or write-in your own preferred charity). Each weeknight we'll randomly select one of the votes, and we'll send that listener's selected charity $1,000.
You can only vote once per day, so come back every day to cast a new vote and support your favorite charities! Thanks from all of us at AccuRadio!
2022 Selected Charities
11/21 - Heart of the Valley Animal Shelter
11/22 - Patriot Paws
11/23 - The San Antonio Area Foundation
11/24 - Heart of the Valley Animal Shelter
11/25 - Autistic Self Advocacy Network
11/28 - Patriot Paws
11/29 - Empty Stocking Fun
11/30 - Forty Carrots Family Center
12/01 - Sit Stay Read
12/02 - Meals on Wheels America
12/05 - Animal Friends Alliance
In the mood for some holiday tunes? Try one of these great channels or browse our huge collection of holiday music.
Here are some of the charities we'll be featuring this season. Any of them would appreciate it if you, too, would make a donation to support their work:
Terms and Conditions: The promoter of Season of Sharing is AccuRadio LLC, 10 W Hubbard Street, Chicago, IL 60654. The promotion begins on November 21, 2022 and closes on December 23, 2022. After the close of each weekday during the period, AccuRadio shall randomly select one vote from those votes received that day (or, in the case of a Monday, the votes received during the Saturday-through-Monday period), and that voter's selected charity will receive a $1,000 donation. AccuRadio retains (i) all tax benefits, if any, including appropriate charitable deductions, (ii) the right to reject any write-in charity (and select a different write-in vote) based solely on its judgment of holiday-season appropriateness, and (iii) the right to reject any organization (and select a different recipient) that doesn't appear on the IRS's Charity Select Check List and/or is not quickly confirmable by AccuRadio staff that it is a 503(c)(3). (U.S.) or T3010 (Canada) registered non-profit organization. A complete list of the charitable organizations receiving donations under the promotion will be available after February 1, 2023. Requests for the list should be addressed to AccuRadio LLC, Attn: Season of Sharing 2022, 10 W. Hubbard Street, Chicago, IL 60654 and include a self-addressed stamped envelope.